Tag: 1/4 mile
by Matt on Jul.14, 2011, under Logs, Tuning
Nothing to really brag about but I tried to hit 11s all last year on my heavy 18″ avus wheels and bad trans so I was happy to finally get my goal last night. I will make a few changes and head back on the 24th w/ bracketracer and see if I can improve.
Current setup:
PJ K04s
Self tuned on e85, 23psi spike to 22. Tune is evolving as I learn.
RS4 83mm MAF housing, airbox and accordion
Deka 60lb injectors @ 4 bar, about out of injector and will need to upgrade soon
Walboro 255 (probably also pushing it)
ER intercoolers
DevilsOwn injection using windshield washer fluid
AWE DPs, no cats, Milltek single 3″
Rebuilt 01E trans w/ JHM shift linkage/bushing/Nuespeed shifter
034 motor mounts (1 torn), Stern tranny, Apikol rear diff, snub, DTS w/ GM mount
18lb Volk TE37 w/ Pilots
No weight reduction other than an empty trunk (no spare) and 1/4 tank of fuel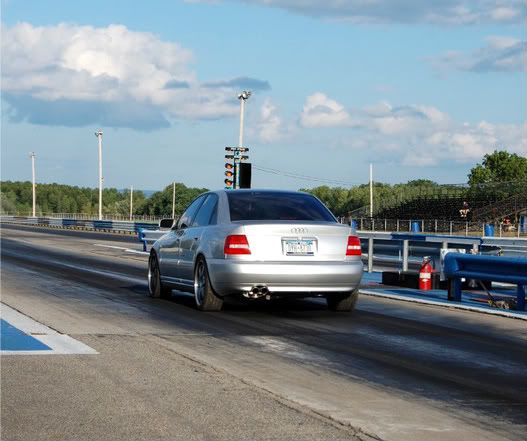 Also, Sunday there was a local dyno day. Mustang AWD. Shop owners and locals say it reads low, but everyone says that about their dyno so IDK. It was like 90* out. I put down 400whp / 413 wtq (ok, 399, but the monitor said 401 at first!!)
Logs from the ride home last night. I'm still learning/working on the tune. I think my MAF scaling is off. Thanks to NOTORIOUS VR and judeisnotobscure for giving me some tips on my file.
Leave a Comment
:1/4 mile, b5 s4, e85, Logs, track
more...
by Matt on May.28, 2010, under Uncategorized
I went down to Empire Raceway tonight with my buddy Brendan and his MK3 GTI with a cammed VR6. I spent all night messing around with different launching techniques, tire pressures, and shift points but I couldn't get anything solid. My best time was a 12.4 @ 116 mph, with a 1.8 something 60 foot. I kept hitting the 1st gear rev limiter. It was frustrating. I dropped my tire pressure to 25 psi all around right before my last run and it seemed to help me get a decent launch. I've ordered a WOTBox and hopefully it will help me get the launches even lower.
Comments Off
:1/4 mile, drag racing, Empire Raceway, launch
more...